11 Museums in Ottawa to choose from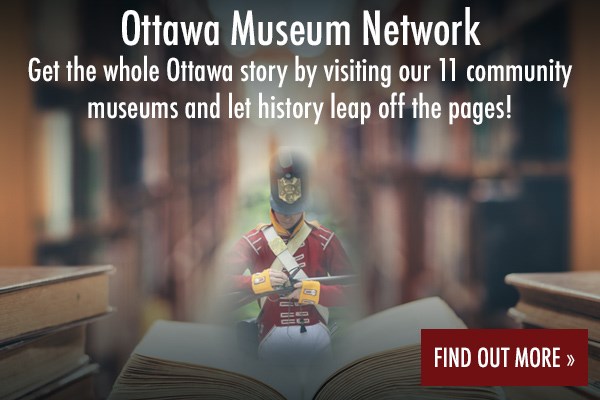 Adventure, history and a whole lot of fun. That's what the Ottawa Museum Network can offer you and your family.
Home to 11 unique museums, the Ottawa Museum Network can help you learn about the past and discover the future with interactive experiences.
Which Ottawa Museum adventure will you choose?
Cumberland Heritage Village Museum, Vanier Museoparc, Bytown Museum, Billings Estate National Historic Site, Osgoode Township Museum, Watson's Mill, Nepean Museum, Fairfields Heritage House, Pinhey's Point Historic Site, Goulbourn Museum and Diefenbunker Museum, all offer something different while under the same umbrella. The Ottawa Museum Network.
Cumberland Heritage Village Museum is a reconstructed historic village located just 30 minutes from downtown where you can explore the 1920s and 1930s. Check out the buildings, including a working blacksmith shop, the heritage breed animals or join in special events, like writing secret messages in invisible ink.
Enjoy maple syrup? Of course you do. But that's not all you'll get at Vanier Museoparc. You'll learn about the history and heritage of Vanier, while exploring the customs of Francophonie. It's in the heart of a sugar bush, so Vanier Museoparc proudly produces sugar maple syrup. Fun fact, it's the only urban sugar shack we know of in North America!
The Billings Estate National Historic site is located in Alta Vista near the shores of the Rideau River. You'll learn about how the Billings Family actively shaped the community. Helping build farms and churches, and contributing to the development of our beloved Byward Market. Billings Estate also has a delicious high tea served on the lawn on Wednesdays, Thursdays, Fridays and Sundays from May 17 to September 1, 2019.
The Osgoode Township Museum allows you to explore rural living from the past and compare it to now. The Agriculture Barn houses an impressive collection of farming tools, equipment and housewares from the early 1800s through to today.
Head to Manotick and Watson's Mill. It's a fully functioning water powered grist and flour mill from the 1860s! Through different times of the year explore the Carriage Shed Used Book Sale, Manotick Farmer's Market, Dickinson House and of course, Watson's Mill. Make a point of attending the Mill Night Shift, on the 3 rd Thursday of the month, from June until September.
Nepean Museum is a kid's dream! Completely interactive, your kids will learn about Nepean's history in a very fun, kid friendly way. Changing exhibits and many hands-on events. New this year, a permanent exhibition highlighting Nepean's history from its beginning to the end of the 20 th century.
Fairfields Heritage House is a stunning 19 th century Gothic Revival farmhouse. It houses the legacy of the Bell family, and tells 200 years of local history. With hands on exhibits and programs for all ages, Fairfields Heritage House is the perfect family outing.
Pinhey's Point Historic Site is a 200-year-old manor house along the picturesque Ottawa River. Every year they offer new exhibits, this year it's all about water! Browse through period rooms settings and learn about the Pinhey family. Sit down to a picnic, look up at the sky and star gaze, or play the guitar around a campfire.
Goulbourn Museum is dedicated to telling the story of Ottawa's oldest Military settlement, and early life in Goulbourn Township from 1818 onwards. You'll learn through a large, diverse collection of artifacts as well as many interactive exhibitions. Your kids can visit The Village Store, dress up and barter for supplies!
Diefenbunker Museum is Canada's Cold War Museum. You'll see what a 1960s underground bunker looks like, take part in a workshop or take a guided tour! You can also explore their 100,000 square foot labyrinth! It's also home to the world's largest escape room!
Visit one of Ottawa Museum Network's 11 museums and let history leap off the page.