Toronto Blue Jays starting pitcher Marcus Stroman throws to the Baltimore Orioles in the eighth inning in the first baseball game of a doubleheader, Wednesday, Sept. 30, 2015, in Baltimore. (AP Photo/Patrick Semansky)

Published Sunday, July 28, 2019 7:33PM EDT 

The Toronto Blue Jays have traded Marcus Stroman along with cash considerations to the New York Mets for two pitching prospects.
News of the deal surfaced shortly after the Blue Jays were defeated by the Tampa Bay Rays 10-9 at Rogers Centre on Sunday and was later confirmed by the club.
In return, the Blue Jays received 24-year-old lefty Anthony Kay and 18-year-old right-hander Simeon Woods-Richardson. 
OFFICIAL: We've traded RHP Marcus Stroman and cash considerations to the @Mets in exchange for LHP Anthony Kay and RHP Simeon Woods-Richardson.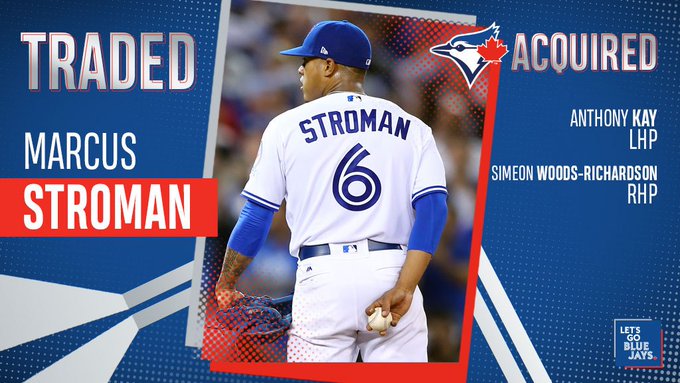 2,1279:05 PM – Jul 28, 2019 Twitter
As reports of the trade surfaced, Stroman posted a message on Twitter, saying "Toronto, I love you … forever!
The Blue Jays had initially said that Stroman wouldn't be accompanying the team on its charter flight to Kansas City.
Stroman left the Blue Jays clubhouse post-game with a unknown companion in a hurry, headed for the underground parking garage. He didn't speak to media and declined comment.
In a corresponding move, the Blue Jays have reportedly called up Bo Bichette from triple-A Buffalo.

Toronto, I love you…forever! 75.7K6:53 PM – Jul 28, 2019 Twitter
Stroman, 28, has spent his entire career with the Blue Jays and was named to the American League all-star team this season.
In 21 starts in 2019, the right-hander has compiled a 6-11 record with an ERA of 2.96 in 124.2 innings.
For his career, Stroman has 47 wins to 45 losses and an ERA of 3.76 in 129 starts dating back to 2014.
Trade speculation had been swirling all season and when the Blue Jays made a visit to Yankee Stadium in June, Stroman spoke of being "built for the bright lights" of New York.
Stroman grew up on Long Island about 80 kilometres from Citi Field where the Mets play. He has a $7.4 million US salary and is not eligible for free agency until after the 2020 season.
NEW YORK! Where I was born. Where my heart lies. Where my family resides. Crazy excited for this part of my journey. Some things were meant to be! @Mets #HDMH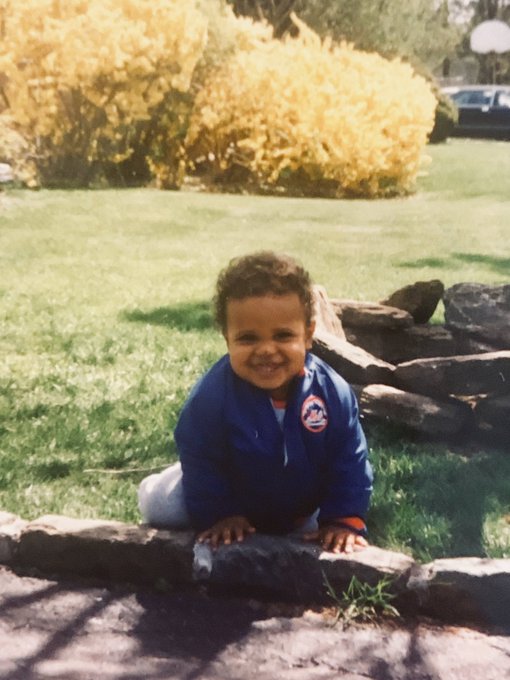 28.8K8:03 PM – Jul 28, 2019 Twitter
His final start as a Blue Jay came last Wednesday when he allowed one run over seven innings in a 4-0 loss to the Cleveland Indians. As he left the field to an ovation after his final frame, he shouted, "This is my house."

CANADA. TORONTO. Words can't really explain the extent of my appreciation and love. Beyond thankful and blessed to have played for this unbelievable nation. Thank you for your constant support, love, and loyalty. I'll be back plenty in the future! 37.2K8:32 PM – Jul 28, 2019 Twitter
Kay is 1-3 with a 6.61 ERA in seven starts for Triple-A Syracuse after starting the season 7-3 with a 1.76 ERA in 12 starts at Double-A Binghamton. He also went to Ward Melville, like Matz, and was drafted by the Mets on the 29th round in 2013 but chose to go to the University of Connecticut. Taken on the first round with the 31st overall pick in 2016, he signed for a $1.1 million bonus.
Woods-Richardson is 3-8 with a 4.25 ERA in 20 starts for Class A Columbia of the Carolina League, with 97 strikeouts in 78 1/3 innings. Taken on the second round with the 48th overall pick last year, he signed for a $1.85 million bonus.
With files from The Canadian Press and The Associated Press